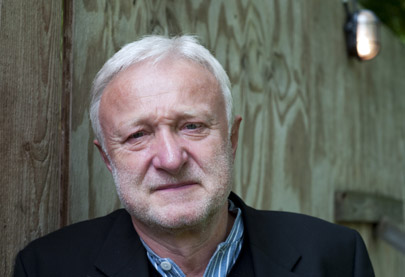 Zurück zur Übersicht
Werner Schulz
geboren 1950 in Zwickau
At the age of 18, Werner Schulz experienced the Prague Spring in 1968 and its military suppression. For him, as for many others of his generation in the East, this was the critical experience that turned the former '68er into a mature '89er (coincidentally, when you turn the figure 68 on its head, you get 89). It was a long but ultimately happy and successful road from 1968 to 1989. In the West, the '68ers wanted a revolution and ended up jaded members of the institution, well rewarded in the end, except for those arrested as terrorists. In the East, most '89ers wanted freedom and democracy, thus becoming revolutionaries and paving the way for a future they had hardly dared dream of previously. Amongst their number was Werner Schulz.
The qualified food technologist was a construction brigade conscript in the mid-1970s. He protested against the Russian invasion of Afghanistan in 1979 and promptly lost his job at the Humboldt University in Berlin. Even before that, he was involved in the church grassroots groups and, from 1981 onwards, he was a member of the Friedenskreis Pankow (Pankow Peace Circle), which was well known throughout the country. In 1989/90, he quickly developed into one of the most prominent representatives of the Neues Forum (New Forum), supporting their work from the outset and later representing them at the Central Round Table on six occasions. In the GDR parliament, Werner Schulz soon stood out as one of the most sharp-sighted and eloquent speakers. This was also the case when he subsequently became a member of the Federal German parliament for Alliance 90/Green Party up until 2005. He had helped to bring about the merging of Alliance 90 and the Green Party up until 1993 as spokesperson for Alliance 90.
His rhetorical brilliance is admired across the party spectrum. He has repeatedly managed to secure an electoral office or a place as a candidate on electoral lists by captivating everyone in the room. In 2005, German Chancellor Schröder effectively dissolved the Federal parliament, with Schulz giving a magnificent speech against this, now included in many public speaking courses and collections of significant contemporary political speeches. He has remained something of a maverick, stubborn at times, who has constantly surprised even his political friends. Freedom from all dogmas – except perhaps one, namely, to follow no dogmas – is one typical characteristic of Werner Schulz. This can also be seen at the European Parliament, which he has been a member of since 2009.