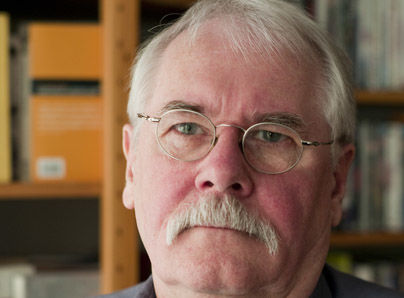 Zurück zur Übersicht
Gerd Poppe
geboren 1941 in Rostock
Gerd Poppe is one of the veterans and masterminds behind the GDR opposition. After having studied Physics in Rostock until 1964, he was part of the Berlin subculture from 1965 onwards and played a major role in shaping this. Here, an opposition movement emerged that spread its wings wider and wider up until the end of the GDR. The attractiveness and diversity of East Berlin in the immediate vicinity of West Berlin made Prenzlauer Berg the natural centre of the growing opposition.
Poppe sought out contacts in other Eastern bloc countries, particularly among the protagonists of Charta 77 in Czechoslovakia. They helped shape his political world view as of 1968. After protesting against the expatriation of Wolf Biermann, he was not allowed to take up a position at the Academy of Sciences he had already accepted. He was effectively banned from practising his profession and then worked as an attendant in Berlin swimming pools. In 1984, he started a job as an engineer in the project design office of the church welfare organisation Diakonisches Werk, where he remained until the end of 1989.
Gerd Poppe was an activist in the independent peace movement in the GDR and one of those who sought alliances with Christians and the Church as an atheist himself. From this time onwards, he maintained close contacts with a number of members of parliament from the West German Green Party with Petra Kelly at the helm. As a co-founder of the Initiative Frieden und Menschenrechte (Initiative for Peace and Human Rights, IFM) in late 1985, he was in favour of independence from the Church for the growing opposition movement. In the IFM he developed the concept of human rights policy as the root of the problem with real socialism, thus shaping one of the essential wings of the GDR opposition. Poppe called for people to publicly articulate criticism and take their human rights, regardless of the fact that these rights were denied by the state. He was the co-editor and author of several illegal political publications and, for many years, he organised readings by unpublished writers in his apartment.
As one of the central figures of the GDR opposition in the 1980s, Gerd Poppe represented the IFM at the Central Round Table from December 1989 to March 1990, and was particularly committed to developing a new constitution for the GDR and later for unified Germany. In March 1990, he became a member of the Alliance 90 faction in the People's Chamber. He was one of the driving forces behind the party's establishment and the subsequent merging of Alliance 90 with the Green Party.
From 1990 to 1998, Poppe was a member of the federal German parliament for Alliance 90 / the Green Party, and then Federal Commissioner for Human Rights until 2003. He was one of the initiators of the Federal Foundation for the Reappraisal of the SED Dictatorship and has been a member of the board since its establishment.