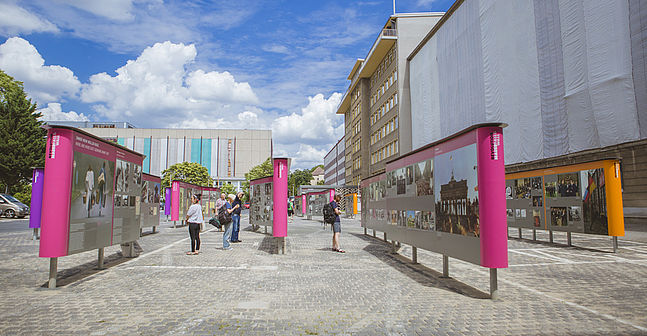 The Robert Havemann Society's open-air exhibition "Revolution and the Fall of the Wall" opens in Berlin in June 2016. It is dedicated to the history of the Peaceful Revolution of 1989/90 - from the beginnings of the protest via the fall of the Wall to German unity. When did the Awakening begin? How did the Revolution take place? What prompted the Fall of the Wall and what stages occurred on the road to German Unity?
The permanent bilingual exhibition (German/English) traces the complex process of self-liberation and shows the changing motives and goals of those involved. The focus is on those courageous East Germans who stood up to the communist dictatorship and ended up toppling it.
More than 650 impressive photos, historical documents and films show the fundamental changes in East German society and recall the moving moments of the successful revolution for freedom.
The exhibition space in the courtyard of the Stasi headquarters
Up until 1990, the Ministry of State Security was located in Berlin-Lichtenberg. In January and again in September 1990, the site became a scene of the revolution. For further information on the history of the site, see: The historical site – the Stasi headquarters.