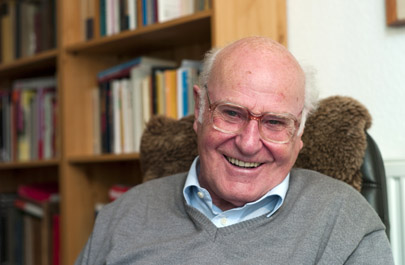 Zurück zur Übersicht
Heino Falcke
geboren 1929 in Riesenburg
Heino Falcke is three things in one: a 'retired' Erfurt chaplain, a Moses figure for the East German Protestants, and a mentor of the Peaceful Revolution. He grew up in West Prussia and Königsberg. For his father, a World War I army officer and Prussian nationalist headmaster, the world collapsed in 1945. His son Heino, however, had been more interested in Gotthold Ephraim Lessing and Adalbert Stifter than in the Hitler Youth.
He became a Christian through the Young Community. In autumn 1946, he began a degree in Theology at the Church University in Berlin-Zehlendorf, surrounded by long-serving military men, war invalids and former general staff officers. He switched to Göttingen University, where Hans Joachim Iwand taught Marx and addressed social issues. Then came an intermezzo in Basel, as an assistant to Karl Barth. Falcke went back to the GDR; being a Christian under pressure there seemed to him closer to the true Confessional Church than the popular, conformist Christianity of the West.
In 1956 Heino Falcke was glued to the radio, listening to reports from Budapest and weeping his eyes out. The violent end to the Prague Spring in 1968 destroyed his dream of socialism, but not his wish to make the GDR a more bearable place. Falcke's speech Christ liberates – the church for others, held at the Dresden synod in 1972 became famous as a plea for political freedom and responsible behaviour towards society.
During the 1980s, peace, ecology and human rights groups were formed across the GDR, in some cases growing out of the Church, in others seeking protection under its roof. The state demanded that the Church should domesticate these free spirits or sweat them out. Chaplain Falcke resisted these demands. Many protagonists of the 1989 revolution came out of these groups. Falcke was the East German draught horse powering the worldwide Ecumenical Assembly for Peace, Justice and Preservation of Creation in 1989. The autumn came, the great emancipatory awakening – and seemed washed away after 9 November. When the Wall fell, freedom was privatised. And faith? The unification treaty nailed the churches together too, under the conditions of the West. "The church is now in the process of learning market-conformist forms of organisation and strategies from the private sector," wrote Falcke in his 2009 book Wo bleibt die Freiheit? (What Happened to Freedom?). "In my opinion, it ought to […] place more emphasis on the forces of self-organisation in civil society." Just like in 1989.
In 1997, Heino Falcke was one of the signatories of the Erfurter Erklärung (Erfurt Declaration) "for social democracy" and against capital "power that is not democratically legitimised". Helmut Kohl identified Falcke and Friedrich Schorlemmer at the time as "intellectual instigators and hate preachers on the road of betrayal." He was wrong. They remained loyal, to this day – to themselves and to Luther's "Freedom of a Christian". "Politics may be the politics of the possible," wrote Heino Falcke in 2009; "The art of Christian hope is to work doggedly at making the necessary possible."