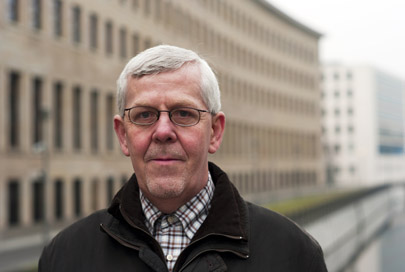 Zurück zur Übersicht
Martin Gutzeit
geboren 1952 in Cottbus
Pastors tend not to write declarations of war. Yet that was exactly what the words that made their way around the GDR opposition from the summer of 1989 were: "Our society is determined by the SED's claim to absolute truth and power, around which all conditions in the state and society are ordered. Yet the gulf between the ideological claim and reality is becoming ever clearer." Words as clear as that could mean arrest, charges, even imprisonment. And the paper, written in the parsonage of the small town of Niederndodeleben near Magdeburg, went further: "This includes an open discussion of the principles of Stalinism and its characteristics in the history and the present of the GDR."
A full-frontal attack. "Of course we knew what we were doing," says Martin Gutzeit in retrospect, one of the text's two authors. A theologian from East Berlin, he had come up with the idea for the paper with his friend Markus Meckel, the pastor of Niederndodeleben. The two men had spent more than a year discussing how to mobilise and organise groups critical of the Socialist Unity Party (SED). The time came on 22 and 23 July 1989: the two of them wrote their paper and then treated themselves to a bottle of red wine once it seemed finished.
For Gutzeit, this declaration of war on the SED was a logical consequence of his previous life. A pastor's son, he had been a conscientious objector and gone on to study Theology, the only subject remaining open to him. He became a Protestant vicar and pastor, then an assistant at the Convictorium in East Berlin, where he organised discussions on peace and politics – undesirable events in a system that defined itself as a 'peace state'. Gutzeit knew what he was letting himself in for: "My wife and I told our children what to do if we were arrested." They had an idea that they were being watched, although they never guessed how close the informers were.
After the founding paper, the Social Democratic Party in the GDR, abbreviated to SDP, came into being on 7 October 1989, the fortieth anniversary of the GDR, of all dates. The party changed its name to SPD a few months later. Gutzeit prepared the Central Round Table on behalf of his party and took part in the meetings. He was always in favour of cautious reunification, but he accepted the faster route that most people in the GDR wanted. As a member of the only freely elected People's Chamber, he worked on the self-elimination of the second German state. The subject of the GDR has never let him go since. Be it as a parliamentary expert or as the Berlin commissioner for the Stasi records – Martin Gutzeit is still concerned to this day with how the revolution remained peaceful against all probability, and thus became a case of historical fortune.