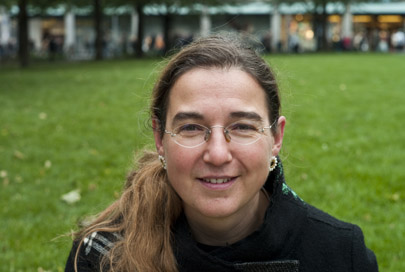 Zurück zur Übersicht
Katrin Hattenhauer
geboren 1968 in Nordhausen
Katrin Hattenhauer, the artist. Even as a child she loved drawing, and painted backdrops for the local theatre in her home town of Nordhausen as a teenager. She became involved in church groups and started at the Leipzig Theological Seminary in 1988: "I wanted to be a pastor, because I'm a Christian and because I didn't want to serve the state." She soon sensed her political activities brought her up against the boundaries of the Christian institution.
She had a room in the seminary, where she kept a duplicating machine for opposition material. "That was important for us. They couldn't search a church institution without notice. The Stasi had to announce they were coming in advance, which gave me time to hide the machine," Hattenhauer recalls. The Stasi demanded that the seminary make Hattenhauer end her degree. The rector held a protective hand over her.
Katrin Hattenhauer, twenty at the time, beat a retreat – partly to avoid negative consequences for the seminary.
At that point, she was already active in the Leipzig opposition group Gerechtigkeit (Justice). They were revolutionaries, they wanted to practice this "calling" as well as possible, they were not afraid to take risks.
On 4 September 1989, the Monday of the Leipzig trade fair, Katrin Hattenhauer challenged the state once again. After the prayers for peace, she handed out hand-painted banners in the Church of St. Nicholas. She and Gesine Oltmanns carried the placard with the slogan "For an open country with free people" out of the church onto Nikolaiplatz. That was more than just calling for freedom of travel and speech. This hand-painted slogan demanded that the people in the GDR should be treated as free citizens all round. As media representatives from the West were present, the state did not intervene. Katrin Hattenhauer was arrested a week later.
This courageous revolutionary was still in prison on 9 October 1989 and did not know what happened on the streets of Leipzig that day. She heard a tumult, the prison walls shook, and the inmates could not help assuming tanks were driving past outside. She was not set free until Friday, 13 October 1989.
While in prison she had decided never again to make herself dependent. Outside, she found out about the miracle: the largest Monday demonstration to date, entirely peaceful despite the high police presence. The first thing she did was to stage an exhibition of her pictures as a Magical Theatre in her flat in a condemned building on Meißner Strasse. "It was very liberating, it made me realise I wanted to be an artist," she recalls.
She was and still remains free. Katrin Hattenhauer paints pictures, in intense colours with many political references. She now lives in Berlin, loves Italy and still has one foot in Leipzig.