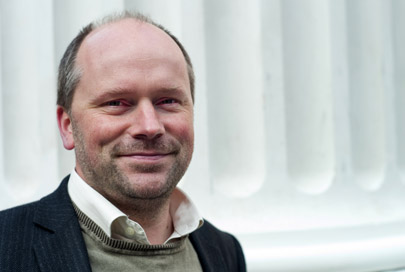 Zurück zur Übersicht
Michael Beleites
geboren 1964 in Halle (Saale)
"There's a time for everything", is one of Michael Beleites' mottos in life. He is not a man driven by obsessions, but he does have his passions. The way he stands there – his hands in his pockets, a smile on his lips – he radiates a calm sense of perseverance. That helped him back in the early 1980s, when he embarked on complicated and dangerous research on uranium mining in the GDR. A member of the East German peace movement, he urged for nuclear disarmament. He was particularly interested in the mining of the basic material for nuclear weapons: uranium. After World War II, the Soviet Union had taken possession of the uranium reserves in the Erzgebirge (Ore Mountains) in Saxony, mining them in strict secrecy. The mining company was called SDAG Wismut – a name intended to conceal exactly what was being brought up from underground. Neither the Soviets nor the Socialist Unity Party (SED) made allowances for the local environment or population. The radioactive mining waste was dumped on slag heaps, the miners bribed with high wages and alcohol – many of them dying young of silicosis or cancer. Pure exploitation in the so-called workers' and peasants' state. And what did young Beleites do? Under the watchful eye of the Stasi, he diligently collected information about one of the largest industrial companies in the GDR. Friends in the West sent him material, which enabled him to ask the right questions about the technical processes and environmental damage. He was a fast learner. And then came the answers, not from the Wismut head office, but from people in the Erzgebirge or in Thuringia, from miners, from an employee of the water inspection board.
By the autumn of 1987, Michael Beleites had gathered so much material that he decided to make it public. But how? Aged 23 at the time, he could hardly walk into a government-owned printing press and hand in the manuscript. So he turned to a parish office, where he got hold of a 1920s wax matrix printing machine, was given new matrices and ink by friends in the West, and then printed 1,000 copies of his 64-page brochure Pechblende (Pitchblende) himself. It began circulating illegally in June 1988. Beleites received thank you letters, approval and additional information. "It's all much worse," people wrote to him, inhabitants of the lunar landscapes around the slag heaps. They told him stories of sickness and death, poisoned water and suppression. Beleites had given people courage. They refused to remain silent; they began to talk.
And when they took to the streets in 1989 to shake off the socialist dictatorship, Michael Beleites was also freed of his fear of one day being stopped from telling the truth. His book was never on a bestseller list, yet it had a greater effect than many a million-selling title. There's a time for everything, after all.