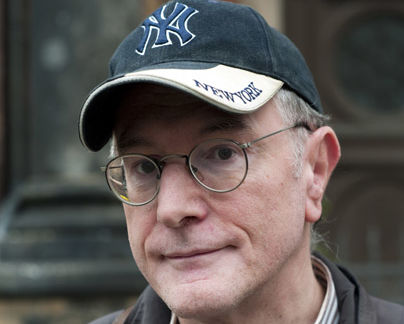 Zurück zur Übersicht
Gerold Hildebrand
geboren 1955 in Lauchhammer
No-one in Gerold Hildebrand's family was interested in politics. His father, trained as a metalworker, was disillusioned by the war, starting life as a Catholic, then becoming an atheist and a Mathematics and Sports teacher in the early days of the GDR. His experiences of totalitarianism prevented him from joining the Socialist Unity Party (SED). He had sworn that no party in the world would ever see his face as a member.
Gerold joined the Pioneers state children's organisation, but he also went to Sunday school – a complicit alliance with his mother, who came from a Protestant Silesian family, an act of rebellion against his father. He read Max Frisch, Heinrich Böll and Friedrich Dürrenmatt, and watched West German music shows like Beatclub on his grandparents' television. The music he heard there and on the radio conveyed a feeling that was hard to express in the small GDR confined behind its wall. That was probably why he went on tour every weekend. He hitchhiked to rock and jazz concerts, where the bands played mainly Western songs. "I always followed the music."
It was on the street that he became political. He experienced the stories that took him to the opposition while hitchhiking. He heard about young people who were disciplined for wearing black armbands after Jimi Hendrix died, about people who wanted to leave the country, about repressions that he was himself to experience shortly afterwards.
Although he had relatives in West Germany and was therefore potentially suspect, he was supposed to join the border troops after his Abitur exams in 1973. Asked after the first six months whether he would shoot at the border, he said "No". "They asked everyone, and anyone could say 'No'." His 'No' was not without consequences, though; the place to study dentistry he had previously been promised was cancelled. From that point on, he referred to himself as an enemy of the state. His friend Matthias Domaschk died in a Stasi prison, a further turning point that did not, however, silence him. One thing was clear to him: "You have to defy the state."
As Gerold Hildebrand did not want to serve the state but did want to help other people, he worked with children with disabilities in church institutions. He took part in illegal reading circles in Jena and was active in the Berlin Environmental Library. He advised young men who did not want to do military service in the GDR about the possibilities and consequences of conscientious objection. In the autumn of 1989, he organised intercession services, was one of the initiators of the vigil in Berlin's Gethsemane Church and maintained contact between opposition groups in Berlin and Leipzig.
At the end of the 1990s, he studied social sciences at the Humboldt University. He then began writing articles against forgetting GDR history, usually for no fee, as an editor for the magazine Horch und Guck (Look and Listen). Although he never attained the prosperity many people dreamed of after the Peaceful Revolution, he describes himself as a contented person.