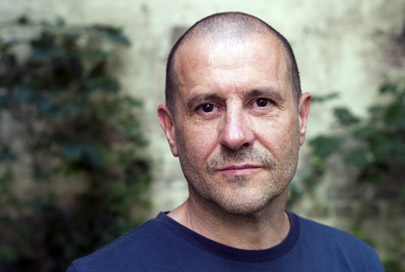 Zurück zur Übersicht
Stephan Krawczyk
geboren 1955 in Weida
Stephan Krawczyk appears almost inconspicuous when he is not on stage. At times it is barely imaginable that he gave the powers that be in the GDR more than just a bit of a shock. For many unconventional individuals in the 1980s, he was 'the new Biermann'. That may have been an exaggeration, but it revealed the desire for a figure for others to identify with, for a celebrity who set an example, doing things people did not dare themselves. Stephan Krawczyk did not provide the soundtrack for the revolution, but he was part of that small group of courageous individuals who paved the way for it.
Krawczyk's life began along conventional lines. After his Abitur exams in 1974 and subsequent military service, he joined the Socialist Unity Party (SED), worked in a cultural centre and other places and completed a distance learning degree in concert guitar in Weimar in 1982. By that time, he was a member of the officially recognised band Liedehrlich, releasing an LP in the GDR in 1982. Krawczyk had been a freelance songwriter since 1980. A year later, he won an award as the GDR's best chanson singer.
Having moved to East Berlin in 1984, he met and fell in love with Freya Klier. His critical lyrics made him a name in the subcultural scene, and it seemed only logical that he left the SED in 1985 and was then banned from his profession. Now he became a cult banned songwriter; his joint projects and performances with Freya Klier were underground hits. The Stasi made them joint targets under the title of Operative Procedure 'Sinus'. In November 1987, Krawczyk and Klier addressed an open letter to Kurt Hager, the chief of SED ideology, calling for independent art and culture, respect for human rights and the retraction of their bans on directing and songwriting. Stephan Krawczyk was working on the illegal radio station Schwarzer Kanal (Black Channel) at the time, later to be involved in the programme Radio Glasnost.
In January 1988, Stephan Krawczyk was arrested on the way to the official Liebknecht-Luxemburg demonstration, which he wanted to take part in with his own banner. He and Freya Klier were deported to West Germany on 2 February. It turned out that their lawyer Wolfgang Schnur, a Stasi informer with the code name 'Torsten', had left them both in the dark about the real situation – broad support for their cause in East Germany – and pressured them to apply to leave the country.
Stephan Krawczyk experienced the revolution, the fall of the Wall and German unity in Berlin, where he still lives today. Numerous CDs, books and concerts testify to his unbroken creativity.