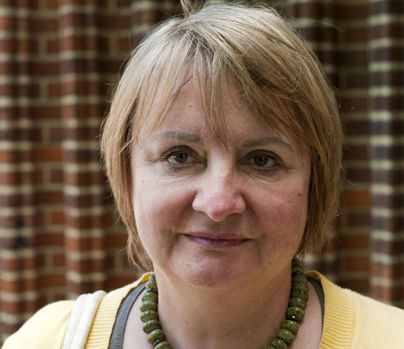 Zurück zur Übersicht
Vera Lengsfeld
geboren 1952 in Sondershausen
On old photos of the GDR opposition she is normally the one who catches your eye first: Vera Lengsfeld gave a particularly graceful face to the civil rights movement in East Germany. Her family background was not at all one of opposition. She grew up in a quintessentially conformist home. Her father even worked for the GDR state security service for a while. She herself studied Marxist-Leninist philosophy and then worked at the GDR Academy of Sciences from 1975 onwards. She also joined the Socialist Union Party (SED) the same year.
Like many party members, her true conviction soon led her to doubt the SED's policies, however. It was all too obvious that there was a big difference between theory and reality. Since she did not keep her criticisms to herself, but joined opposition circles, the party initiated disciplinary proceedings against her on the grounds of 'dissent'.
The pressure had the opposite effect to that intended: Vera Lengsfeld turned into a radical critic of the SED. And, as is often the case when someone is disappointed in a political idea, she was particularly resolute about it. As a result of her having the audacity to protest publicly in 1983 against the stationing of Soviet nuclear missiles in the GDR, she was ousted from the SED and banned from her profession of teaching. Subsequently, she had to struggle along as a beekeeper and translator until she began studying theology at a church college.
In 1987 she was one of the co-founders of the Church from Below Initiative, which opposed the political conformity of the East German official church. She was actively involved in the peace workshops and environmental seminars in the safety of the churches. When in 1988 she intended to participate in a state demonstration for Rosa Luxemburg and Karl Liebknecht carrying a hand-painted banner, she was arrested en route. She ended up in the Stasi prison in Berlin-Hohenschönhausen, where she now conducts guided tours. But since there was protest against her arrest not only in the GDR but also abroad, the SED chose to deport her to England on a church 'study trip'.
Vera Lengsfeld almost missed the Peaceful Revolution because of this. It was not until the morning of 9 November 1989 that she was allowed back into the GDR, where she immediately threw herself into the fight against the crumbling SED dictatorship with her usual energy. That evening, she was there, too, when the Wall was stormed in Berlin. Soon afterwards, she joined the newly founded Green Party, was active in the constitutional commission of the Central Round Table and became a member of the first and last freely elected GDR parliament. Then she was a member of the Federal German parliament for fifteen years, first for the Greens, then for the Christian Democrats (CDU).