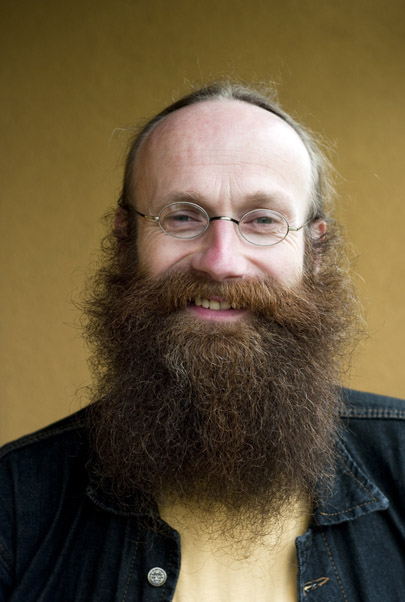 Zurück zur Übersicht
Rainer Müller
geboren 1966 in Borna
"What I did went without saying as far as I was concerned," says Rainer Müller, who grew up in Benndorf near Frohburg, the parents influenced by Christianity, cooperative farm workers, the son rebellious all along. After refusing a secular coming of age ceremony, he distributed 'swords to ploughshares' patches at school as a teenager, which cost him the right to take his Abitur exams, refused on spurious grounds despite being a star pupil.
Müller was notorious for asking questions. He played truant and drove his civic studies teachers to despair. The authorities reacted. Consequently, a person like him had no choice but to train as a bricklayer. He obtained a good grade in his examination qualifying him as a skilled labourer and was even publicly acknowledged as a star student in the vocational school. Yet, he still remained a protester, participating in a strike for better working conditions, applying to be a construction brigade conscript, refusing outright to do military service, banned from his profession and unemployed contrary to the laws of the workers' and farmers' state.
Müller displayed fighting spirit. At a service in the Church of St Mary in Borna on World Peace Day in 1987, he called upon people to boycott work in the brown coal mines and stop playing a part in destroying the environment. The text Sag nein (Say no) by Wolfgang Borchert, which he had written upon his return to Hamburg about his own painful experiences in World War II – say no when you are ordered to throw grenades, say no when you are supposed to shoot – became, according to Müller's re-interpretation, "say no when your homeland is being destroyed". For someone like him, resistance was not youthful exuberance; he was deadly serious about it. The maxim? "We did not want this country to go to the dogs. All those of us who were as heavily involved as me were well aware that we had one foot in prison. We couldn't – and didn't want to – do things by halves."
Müller experienced the whole range of state sanctions – imprisonment and interrogations, a ban from the city centre and house arrest, spying and fines. The Stasi opened him up for clandestine persecution as Operative Procedure 'Martyr'. As early as 1 May 1987, he and his allies had marched in demonstrations with banners bearing quotes by Mikhail Gorbachev obtained from the Soviet journal Sputnik or Soviet newspapers. One slogan read: "We need democracy just like we need air to breathe," and another: "The people need the whole truth." In 1989, Müller and his fellow civil right activists and friends Uwe Schwabe and Frank Sellentin carried a banner with the word "Democracy" written in German and Chinese at the closing ceremony of a Protestant church convention. This was their protest against the brutal repression of the demonstration on Tiananmen Square in Beijing.
From 1988 onwards, Müller was paid a salary for his political activities, funded by the Leipzig Working Group for Justice, turning him into the phenomenon of a full-time revolutionary.
Today he is a freelance historian, also active in many social fields.