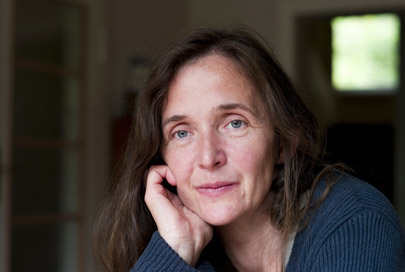 Zurück zur Übersicht
Gesine Oltmanns
geboren 1965 in Olbernhau
"I am not a public figure", says Gesine Oltmanns. This is very true if you look at her life now. Amazing things happened in private at her home in Leipzig-Connewitz. This is also where she met her husband during revolutionary times when they shared a flat.
Gesine Oltmann has always done everything wholeheartedly or not at all. In 1983, she moved to Leipzig. She was not granted the university place she wanted – to study biology – despite applying several times. She muddled through in various professions, working for the People's Solidarity association for the elderly in the GDR and for the post office, as well as for a music publishing house.
From 1987 onwards, she became an indispensable person on the road towards the Peaceful Revolution. After the powers that be had searched the Environmental Library in Berlin, the young woman knew that she had to take action. From then onwards, she was no longer just a follower but at the forefront, involved in the planning of civil rights campaigns. "Publicity was always very important to me. I wanted to provoke people to voice their own opinion, to adopt a position," Oltmanns recalls.
Seeing the steady growth of civil resistance here was the greatest motivating factor for Gesine Oltmann – "a happiness hormone, which also meant that our own protection was constantly increasing". Witnessing this was partly what led her in spring 1989 to withdraw an application for an exit visa from the GDR, submitted in 1988, much to the amazement and annoyance of the authorities. "I could feel that something was changing." There was often a fine line between reality and absurdity with these activities. It was absurd when, during a documentary film festival in autumn 1988, civil rights activists released balloons bearing the names of the films that had been banned by the state. The Stasi were jumping around wildly in an attempt to puncture the brightly coloured messengers of truth. However, the situation with the public protest on 4 September 1989 was very real. On the Monday of Leipzig's international trade fair, the state did not dare to intervene, but things looked very different a week later. Gesine Oltmanns was lucky not to have been arrested: "I had very high hopes on 18 September. For the first time, the rows of police withdrew from the area around the Church of St Nicholas and hundreds of people sang the Internationale in protest. It still sends a shiver down my spine today."
The development after 9 October, the sudden switch from "We are the people" to "We are one people", was no longer what she had in mind. She could also tell how much the constant activity had taken its toll on her. "Now it's someone else's turn," she told herself.
She has never read her Stasi files. That would be too laborious. Her work in the Gauck office where Stasi files are archived also contributed to this lack of interest. In the early 1990s, she was dealing with the legacy of the GDR on a daily basis. When she even had a dream about finding the Stasi files of Kurt Masur, she said to herself: "That's enough now." All that matters to her today are her children.