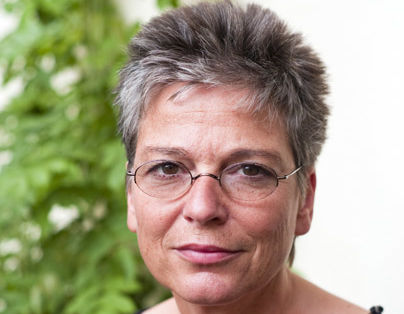 Zurück zur Übersicht
Ulrike Poppe
geboren 1953 in Rostock
Human rights in the broadest sense of their meaning for society and state have always been at the heart of Ulrike Poppe's political activities. On the one hand, human rights are a codified law, as she sees it, that must be implemented in everyday life. On the other hand, they also have an existential dimension. They open up the possibility, as Václav Havel wrote in 1978, to live in the truth. Ulrike Poppe understands this "attempt to live in the truth" as a moral and political imperative as well as a way of life, that can be used to tear apart the dictators' web of lies. It was not only a requirement but, at the same time, a way out of the state-decreed lack of ability to think independently in the communist dictatorship.
Ulrike Poppe took an initial, very decisive step when, in 1973, she dropped out of her course in Art Education and History at the Humboldt University in Berlin because she did not want to put herself in a position where she would have to serve the dictatorship as a teacher in the future. In the group Frauen für den Frieden (Women for Peace), the Initiative Frieden und Menschenrechte (Initiative for Peace and Human Rights), the Initiative Absage an Praxis und Prinzip der Abgrenzung (Initiative for Rejection of the Practice and Principle of Separation) and the Netzwerk Frieden (Peace Network), she effectively laid the intellectual foundations that gave direction to the Peaceful Revolution of 1989/90. In October 1986, on the thirtieth anniversary of the Hungarian popular uprising, together with Hungarian, Slovak, Czech and Polish civil rights activists, Ulrike Poppe advocated self-determination of the nations in the Eastern bloc and peacefully overcoming the division of Europe. In December 1987, the Initiative for Peace and Human Rights publicly expressed the objective of establishing democracy and rule of law in the GDR. These same goals were to be seen again in the civil rights movement Demokratie Jetzt (Democracy Now), founded in September 1989, when its spokesperson Ulrike Poppe demanded a referendum against the "leading role of the SED" and advocated a trust corporation that was to transform the former state-owned property in the GDR in a fair way. Democracy Now insisted on an institutionalised social reform dialogue at an early stage, namely the round tables. Ulrike Poppe represented Democracy Now at the Central Round Table in Berlin.
After the opening of the archives, she set an example for others through the way she dealt with her own experiences of betrayal by friends, of spying and of degradation by the Stasi. This method, which first required the perpetrators to undergo a learning process before the victims were confronted with the need for dialogue, prevented rash talk of 'reconciliation' stemming from current political considerations. In December 2009, the parliament of the state of Brandenburg unanimously voted Ulrike Poppe Brandenburg Commissioner for the Consequences of Communist Dictatorship.