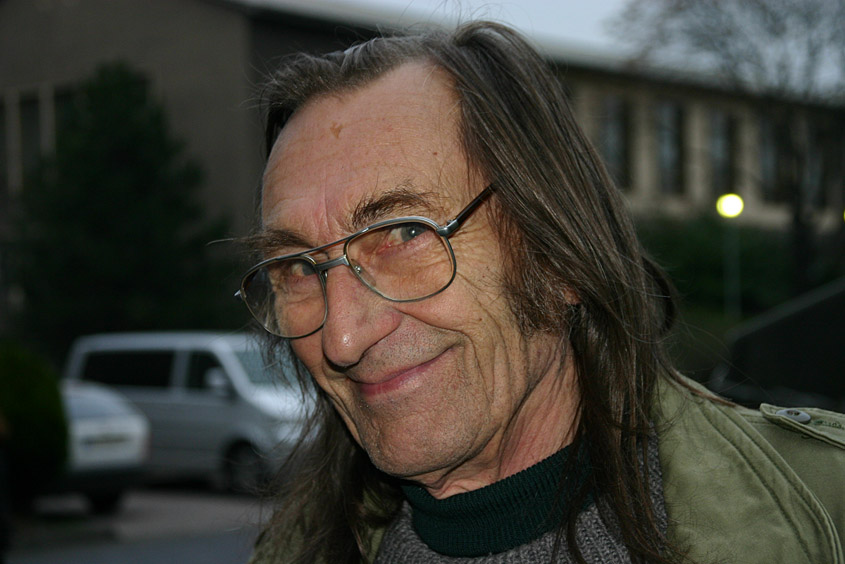 Zurück zur Übersicht
Walter Schilling
geboren 1930 in Sonneberg
When Walter Schilling celebrated his eightieth birthday in 2010, an illustrious group of people gathered to pay homage to him, almost to his embarrassment. But Walter Schilling had had a formative influence on the style and character of tens of thousands of young people in the GDR. Not only was he a central figure who paved the way for the revolution, a steadfastly cheerful person in times of darkness, role model and trailblazer, he had always been unknown outside the subculture and his region, as only a true revolutionary can be. Whenever other people thrust themselves in front of cameras and microphones, he was nowhere to be seen. He would never dream of chasing fame, and besides he had much more important things to do.
Walter Schilling's parents were members of the Confessional Church. After the war, he decided to follow in his father's footsteps and become a pastor, working as a parish pastor in Braunsdorf-Dittrichshütte near Saalfeld until he retired in 1995. Young non-conformists began to make pilgrimages to the old stable building of the Braunsdorf parsonage. From 1968 onwards, it always had its doors open to the hippy movement. The project was inspired by one of the founders of the Confessional Church, Bonhoeffer, who had intended it to be an alternative Church. Schilling also attracted attention because he looked like those ostracised by the Socialist Unity Party (SED) state. It was essential for him to be able to speak in the first person and encourage others to do so, too. Walter Schilling became a figurehead of the concept of 'Open Work', a nucleus of the independent peace movement, of the opposition and then of the civil rights movement. The Stasi persecuted him, tried to undermine him, harassed and hindered him, but failed to break him.
It was only logical that he played a major role in the Church Congress from Below in East Berlin in 1987 and became a figurehead of the Church from Below. In 1989 – after a lot of wrangling with church leaders – he became the pastor of their confidence. No-one else even came close. In May 1989, the Church from Below was a centre for the election monitoring by the opposition, which dealt a permanent blow to the SED's brand of socialism.
In October 1989, Schilling participated in the vigil at the Gethsemane Church in East Berlin, using the telephone there to inform other regions of the GDR about police brutality. He was involved in compiling a collection of eyewitness accounts that was published under the title Ich zeige an (I Denounce) and contributed to the SED state losing its legitimacy. Educating people about the dictatorship, particularly about the crimes of the secret police, was of prime concern to him in the years to follow.