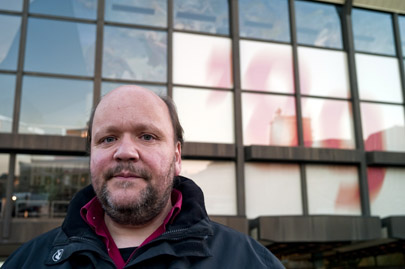 Zurück zur Übersicht
Uwe Schwabe
geboren 1962 in Leipzig
Zeitgeschichtliches Forum Leipzig: On the fourth floor of this museum, the former (peaceful) revolutionary Uwe Schwabe, now a family man of almost fifty, serves contemporary German-German history. Trained as a locksmith, he has found his dream job taking care of the museum's collection. This was no mean feat, since Schwabe does not possess the necessary formal qualifications for the position. But what he does have in his favour are his merits as a civil rights activist.
Born in Leipzig, he grew up with a mother who worked shifts and his three brothers and sisters. In their flat in an old building in Idastrasse, he also took care of his bedridden grandmother – he endured a hard life without grumbling. To follow his childhood dream of going to sea, the young man signed up for three years in the National People's Army. Although he was capable of doing so, he refused to subordinate himself to the military disciplinary system. When the day of his discharge had come, his superior's parting words were: "I'll make sure you get into hot water." That did not happen. However, Schwabe was no longer 'suitable for crossing borders', as he gathered from the response to his application to join the marines. The maintenance mechanic ended up in the socialist production system instead of on a steamer bound for Timbuktu. By 1987 he was fed up with hearing a pack of lies about heroic successes at the work bench. He handed in his notice, became unemployed, did some casual work at the Christmas market, sold bread rolls with meat and mulled wine, earning a decent living because, as he now confesses, the already rather watery mulled wine was further diluted.
He ceased having fun when he became a carer in the Protestant Albert-Schweitzer-Haus, looking after old people in conditions difficult to imagine nowadays. People were wasting away in massive dormitories. This is the thing Schwabe remembers most about the GDR. It is also thanks to these experiences that the young man became a revolutionary. Not a Christian himself, he had also become acquainted with the Junge Gemeinde (Youth Congregation) of the Church of St. Nicholas, was impressed by their activities – and himself became a driving force behind the radical changes. He made the most of the opportunities for freedom of thought offered to him by the Church, without allowing himself to be converted. He was active in the environmental organisation AG Umweltschutz and in 1987, since he was not only concerned with environmental problems, he founded the Initiativgruppe Leben (Initiative Group Life).
The first Pleisse river memorial march took place in 1988, and then in 1989, on the occasion of the state Liebknecht-Luxemburg demonstration, people were called upon to participate in a counter-protest and the only street music festival to take place in the GDR was organised. Uwe Schwabe was always there at the forefront and was imprisoned for ten days in January 1989 for distributing flyers. In the turbulent period that followed, he supported the Neues Forum (New Forum) and, along with other like-minded people, founded the Archiv Bürgerbewegung (Civil Rights Movement Archive), which carries out important commemorative work and of which he is now chairman.