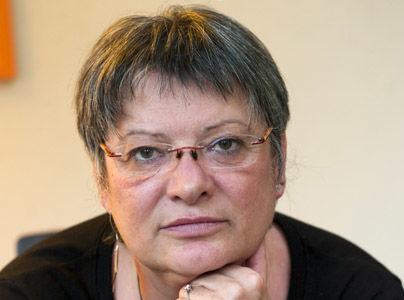 Zurück zur Übersicht
Barbara Sengewald
geboren 1953 in Karl-Marx-Stadt (Chemnitz)
In December 1989, a group of women, including Barbara Sengewald, led those who initiated the first occupation of the regional headquarters of the Ministry for State Security in Erfurt to stop files from being destroyed.
After taking her Abitur exams, Barbara Sengewald worked for a Confederation of Free German Trade Unions (FDGB) holiday camp in the Thuringian forest. From the late 1970s, she lived in Berlin and Dresden for several years, where she made initial contacts with opposition groups. In 1986, she moved to Erfurt, where she worked for the local transport authority. She was involved in the Open Work of the Protestant Church, where she met critical youths and people working for the Church. Consequently, she had problems with her employers and moved to the accounts department of a craftmen's cooperative. She became actively involved in women's groups advocating democratisation and the formation of a women's movement networked throughout the entire GDR. In autumn 1989, Barbara Sengewald was one of the co-founders of Neues Forum (New Forum) in Erfurt and the initiative Frauen für Veränderung (Women for Change).
On 17 November 1989, the Modrow government official dissolved the Ministry for State Security and renamed it the Office for National Security. Under Mielke's former deputy, Schwanitz, files were still being cleaned up or destroyed. On the morning of 4 December, clouds of smoke coming from the building of the regional headquarters in Erfurt alerted the Women for Change to this fact. Along with other opposition groups, they attempted to gain access to the regional headquarters, blocked the exits to the building, began to monitor staff, and demanded that the archive was secured. They called in military lawyers to legitimise the process. On the same day, a civil guard was set up to watch the building round the clock. The next day, a citizens' committee was established to dissolve the secret police. Since many people in Erfurt soon saw the citizens' committee as the only trustworthy local representative group, it also had to carry out other work locally. Following the voluntary dissolution of the city council in February 1990, and up until the first free local elections in May, Barbara Sengewald worked for New Forum in the interim parliament of the city of Erfurt.
Today she works as an economist and head of a tax advice office. On a voluntary basis, she presides over the Gesellschaft für Zeitgeschichte (Society of Contemporary History), in which former members of the Erfurt citizens' committee are endeavouring, inter alia, to reappraise Thuringia's recent history and to set up an educational and memorial centre in the former Stasi remand prison in Erfurt.