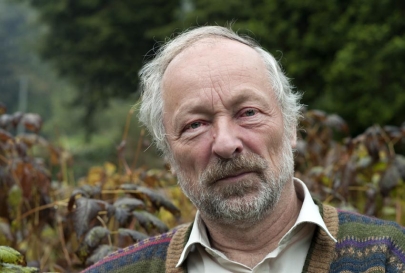 Zurück zur Übersicht
Martin Böttger
geboren 1947 in Frankenhain (Sachsen)
For the pastor's son Martin Böttger, his time in the construction brigade was his "school of opposition". Construction brigade conscripts could refuse to use weapons during military service. Böttger met Christians who were conscientious objectors for religious and political reasons. A student of Physics at Dresden Technical University, he left the state youth organisation Free German Youth and turned to the Protestant Students' Community, which meant he was not allowed to do his PhD. In 1982 he was admitted to a doctoral programme after all.
He got into plenty of scrapes during his time in the opposition, but generally came out of them unscathed. In 1976 and 1980, he had to spend one day in prison, in 1983 a whole two weeks, until the mayor of West Berlin Richard von Weizsäcker appealed on his behalf.
Böttger was active in the Peace Workshop organised by church groups. He set up a lino printing shop for children on the premises of the Church of the Redeemer in Rummelsburg in 1982, which was very popular. Using a linocut he made himself, he printed the peace symbol of swords to ploughshares – outlawed by the state – on fleece in green ink, and distributed the prints.
At later events, he was the legal expert who provided information about human rights in the GDR, said how far opposition activists could go without being sanctioned and what they should bear in mind. Another of his topics was the right of prisoners awaiting trail to refuse to make a statement. Many an activist who fell into the Stasi's hands profited from his experiences of prison.
Martin Böttger was one of the founding members of the Initiative Frieden und Menschenrechte (Initiative for Peace and Human Rights), in 1989 co-founding Neues Forum (New Forum). His family had just moved from Berlin to Zwickau; the house on the hill soon became a crystallisation point for dissenters. In 1989, he says, people didn't need "sceptics, charismatic leaders, talented speakers full of hope, manoeuvring pragmatists. What was needed was people with no fear, who wanted to stay here, change the country and raised their voices to tell the truth. Without censorship, without police persecution and without occupational bans. None of us wanted to make our professional careers dependent on reeling off official lies. People didn't need new ideas, they wanted to re-enliven an old, forgotten, betrayed idea: the idea of human rights." And a man like him was in the right place at the right time.
He characterises the Peaceful Revolution of 1989, in which he played a decisive role, as a storm tide – "anyone who stood up to it was swallowed up." The Stasi in the Erzgebirge region kept a track of pretty much his every step during the autumn of 1989. Reading the reports today, one notices that the security service was simply describing its own downfall.
At the Saxon state parliament elections in October 1990, Böttger stood as a candidate for Alliance 90 and became their parliamentary party leader. From 2001 to 2010 he was head of the Chemnitz office of the Federal Commissioner for the Records of the State Security Service.