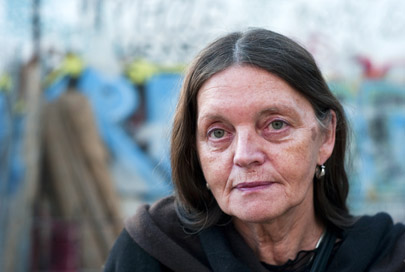 Zurück zur Übersicht
Judith Braband
geboren 1949 in Barth
Judith Braband is a person who reflects her own actions, no matter how painful that process is. She comes into her own when something is allegedly not possible. Perhaps that is why she became a convinced socialist. Her parents, both members of the Socialist Unity Party (SED), taught her that the road to socialism was long and stony. Her father, who treated her like a boy in the first years of her life, taught her how to solve problems: "It has to work. It's just jammed."
At the age of 17, Judith Braband vowed to join the SED. "I wanted to get right to the centre of action, join in, make things better." She was thrown out of university, and made herself enemies on the production floor where she was sent to prove herself. She was an uncomfortable comrade, someone who pointed out injustices and demanded they be corrected.
In 1971 the Stasi approached her, and Judith Braband was convinced she had to do her bit in the battle against "enemies of the state", including betraying people who wanted to escape from the GDR. "I thought just running away was cowardly."
When the GDR signed the CSCE final accords in 1975, she studied the documents with care. The outcome was a shock for her. "No state in the world has the right to hold people against their will." The Stasi wrote, "Comrade Braband has major problems." Judith Braband managed to leave the security service.
From 1977 she worked as a freelance designer, including for the magazine Sibylle. She analysed society in illegal political circles: Why an army? A secret service? Why don't we have sexual equality? What can individuals do?
After critical writers were expelled from the Authors' Association in 1979, she and some friends wrote a letter to Erich Honecker denouncing the GDR, and sought others to sign it along with them. She was arrested under accusation of "treasonous agent activity", as the small group had contacts with left-wingers in the West. Judith Braband left the SED in response. In 1980 she and Thomas Klein were sentenced to nine months' imprisonment for "making illegal connections".
From the mid-1980s, underground magazines were produced in her studio basement. West German friends had smuggled a computer into the GDR for her. Judith Braband found a home in the Vereinigte Linke (United Left), becoming the group's first managing director in 1989 and representing it at the Central Round Table. She finally had a chance to make something better, to launch a new society. Following discussions over her activities for the Stasi, which she made public herself, she gave up her seat in parliament. Since then, she has worked for cultural associations and the House of Democracy and Human Rights Foundation. Judith Braband is always active where she believes she can change something. But she will never do so again in the name of an ideology.