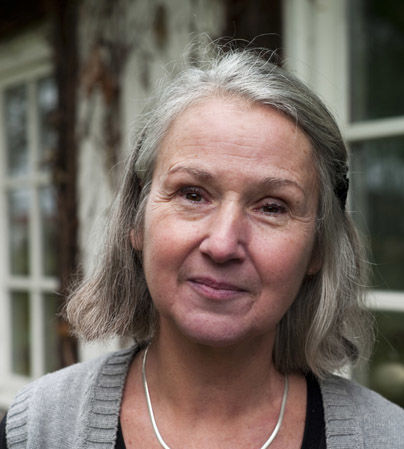 Zurück zur Übersicht
Katrin Eigenfeld
geboren 1946 in Halle (Saale)
Katrin Eigenfeld's family had a tradition of resistance dating back to the Nazi period, which was to set the tone for her later activities. Her grandfather Walter Gabriel was one of the founders of the Confessional Church, imprisoned in Dachau concentration camp from January 1941 to December 1942.
Her own political activity began in 1978. She noticed that although the GDR claimed international solidarity, Chilean refugees after the putsch were treated with increasing discrimination in the GDR. She made personal contact with Chileans and organised parcels for Chile. This was enough to prompt Stasi observations, which continued unabated until 1989.
Katrin Eigenfeld found her next challenge in open youth work within the Church in Halle-Neustadt, where she added an increasingly political and radical note. Her work with young dropouts from society brought her into major conflicts with the church leadership on one side and the Stasi on the other. She was arrested on grounds of planning a peace march for World Peace Day in 1983. Accused of "smear campaigning against the state", she was sent to the "Red Ox" Stasi prison in Halle on remand on 31 August 1983. She was released on 11 November 1983, not least because Martin Niemöller, Bishop Kurt Scharf, Petra Kelly and Otto Schily had appealed to Erich Honecker on her account and Amnesty International had called attention to her case.
After the Stasi had practically put an end to church youth work in Halle-Neustadt, Katrin Eigenfeld moved on to the Frauen für den Frieden (Women for Peace) in Halle. She became a central figure in this group, where she gained new experiences that helped her to find her identity as a woman and carry out targeted actions, such as the Fasting for Life campaign, women's services of lament and support for women whose husbands were imprisoned as conscientious objectors. In December 1986 she joined the Initiative Frieden und Menschenrechte (Initiative for Peace and Human Rights).
In the autumn of 1989, Katrin Eigenfeld was one of the first signatories of the Neues Forum (New Forum) founding appeal and was then arrested again in the night of 6-7 October 1989. She was at the forefront of the Monday demonstrations in Halle, organising and holding initial speeches. Active in various committees, initiatives and action groups, she later stood as a candidate for New Forum in the parliamentary and local elections. From May 1990 to December 1994, she was a member of the Halle city parliament for New Forum in the Alliance 90/Green faction, and worked for the Independent Environmental Institute in Halle. In 1994 she and her new husband moved to Rügen, where she still lives today.