Opening: open-air exhibition "Revolution and the Fall of the Wall"
27.02.2019 | Veranstaltungen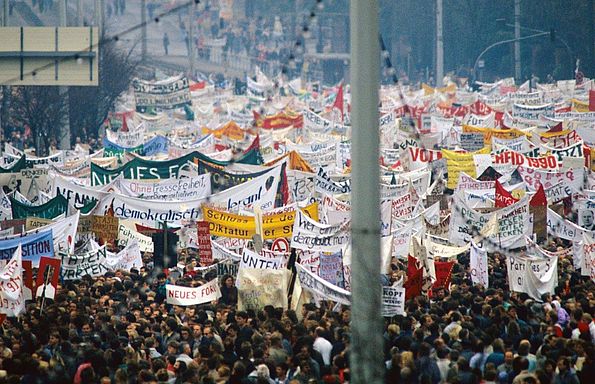 Event | Berlin
How did the Peaceful Revolution come about? What prompted the fall of the Berlin Wall and what stages took place on the road to German unity? The Robert Havemann Society's open-air exhibition "Revolution and the Fall of the Wall" opens at the Stasi headquarters in Berlin-Lichtenberg on Wednesday, 15 June 2016 at 11:30 am. Over 650 fascinating photos, historical documents and films show the fundamental changes in East German society and recall the moving moments of the successful fight for freedom.
The permanent bilingual (German/English) exhibition traces the complex process of self-liberation and shows the changing motives and aims behind it. The focus is on those East Germans who overcame their fear to criticize the SED regime more and more openly, and eventually toppled the communist dictatorship.
A bilingual audio guide provides a tour of the multimedia exhibition. The open-air exhibition is open from 15 June, around the clock every day. Entrance is free of charge.
Opening programme from 17 to 19 June
An extensive opening programme takes place from 17 to 19 June 2016, with hourly guided tours of the exhibition by witnesses to the revolution, free of charge. Visitors can also find out more about the history of the complex on separate tours.
The opening of the Stasi files was a key objective during the occupation of the Stasi files archive in September 1990. This archive can be viewed in combined guided tours, offering insights into what the GDR secret police left behind.
The highlight of the opening programme is a concert by Speiche and Friends at 7 pm on 17 June. Famous musicians from one of the most successful East German blues bands – Monokel – will make a special appearance on stage.
Audio guides can be loaned from the information desk in the former officers' mess (House 22) between 10 am and 5 pm.
15 June 2016
11:30 am: exhibition opening
17 to 19 June 2016
17 June 2016
Noon – 5 pm: hourly tours of the new exhibition, guided by witnesses to the revolution
2 pm: combined tour of the exhibition and the Stasi complex
4 pm: combined tour of the exhibition and the Stasi files archive
7 pm: Speiche and Friends, blues concert
Refreshments: drinks and Thuringian barbecued specialities on sale
18 June 2016
10 am – 5 pm: hourly tours of the new exhibition guided by witnesses to the revolution
10 am | noon | 2 pm | 4 pm: combined tour of the exhibition and the Stasi files archive
19 June 2016
11 am – 5 pm: hourly tours of the new exhibition guided by witnesses to the revolution
Noon | 2 pm | 4 pm: combined tour of the exhibition and the Stasi files archive
Location:
Stasi headquarters in Berlin-Lichtenberg
Meeting point for tours: information desk (House 22)

Ruschestraße 103
10365 Berlin
U5 Magdalenenstraße
---