Concert: Speiche and Friends
27.02.2019 | Veranstaltungen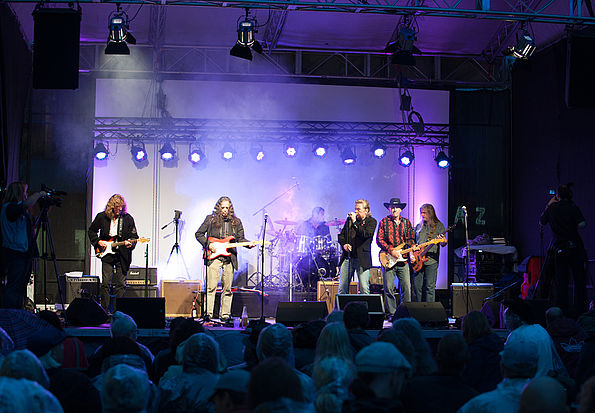 Blues concert | Berlin
Monokel was one of East Germany's most successful blues bands. A whole generation of GDR dissidents and rebels identified with them. For many, the band's concerts felt like moments of liberation in difficult times over which they had no say, a guiding light for nonconformists, a primal scream.
The band's bassist Jörg "Speiche" Schütze has been performing on stage for fifty years and is a stalwart of the GDR rock scene. From 1976 to 1989, the band drew thousands of fans every weekend, playing remote village halls, concert venues and open-air stages that could not be kept under tight surveillance by the secret police. Their performances were a place to demonstrate resistance and lust for life.
During the opening programme, Speiche and Friends will play a special live concert at the Stasi headquarters. The band members are not only talented musicians but also have exciting tales to tell, as they will prove in conversation with Helmuth Frauendorfer.
Location:
Open air concert
Stage in front of the former officers' mess (House 22)
Courtyard of the Stasi headquarters
Ruschestraße 103
10365 Berlin-Lichtenberg
U5 Magdalenenstraße
---